Daytona Beach, well-known for its glorious sandy beaches, thrilling motorsports, and vibrant nightlife, is also a haven for anglers. Whether you are a seasoned fisherman or a novice looking to toss a line, this beautiful Floridian city has something for you.
With diverse aquatic habitats, Daytona Beach promises rich fishing experiences filled with a variety of species, each more exciting than the last.
1. Red Drum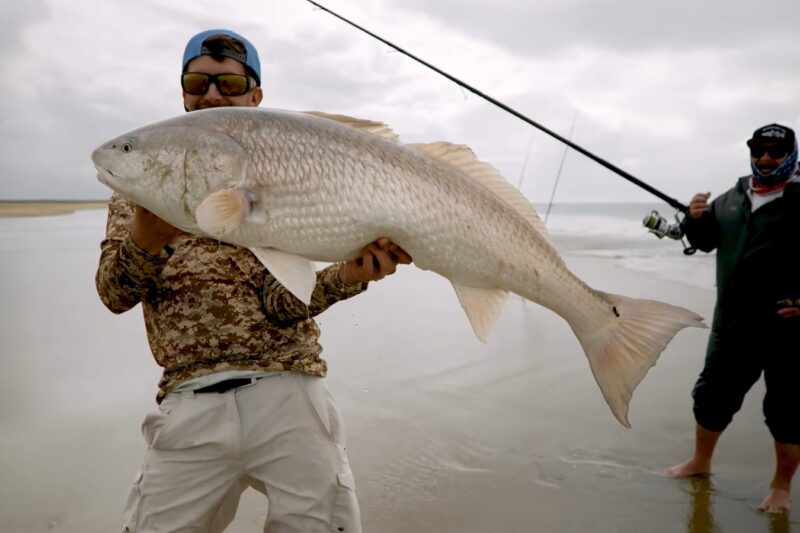 The Red Drum, characterized by its bronze body and one or more black spots at the base of the tail, thrives in the inshore waters of Daytona Beach. These fish are often found around structures like jetties and bridges, providing thrilling action for anglers.
Location and Technique
Frequenting the brackish waters, anglers often find luck catching Red Drum around the Halifax River. Live bait like shrimp or mullet is typically effective. When it comes to technique, casting near structures or grass beds and patiently waiting often yields results.
Seasons and Regulations
While Red Drum can be caught year-round, fall is considered the prime season. Anglers should note the strict regulations:
Size limit: Between 18 and 27 inches
Bag limit: One per person per day
License: A Florida fishing license is required
2. Spotted Sea Trout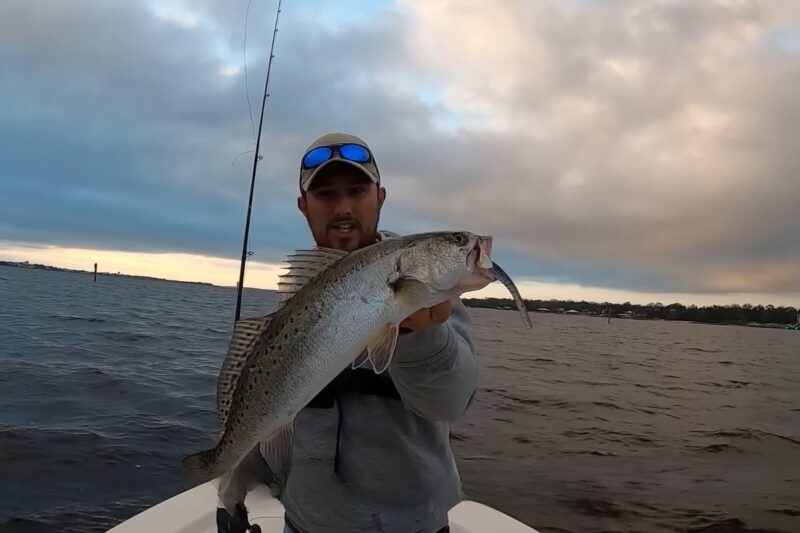 The Spotted Sea Trout, or "speckled trout," prefers the shallower seagrass beds found in the area's estuaries. It's a beautiful fish, prized not just for its looks but also for its delicious taste.
Bait and Tackle
Live shrimp and pinfish are often the baits of choice for targeting Spotted Sea Trout, but artificial lures can also be productive. A light to medium tackle is usually sufficient to handle these energetic fish.
Best Times and Limits
May through October is typically the best time to catch Spotted Sea Trout. Anglers should be aware of the regulations:
Size limit: More than 15 inches and less than 20 inches
Bag limit: Four per person per day
Exceptions exist for one fish over 20 inches per person
3. Snook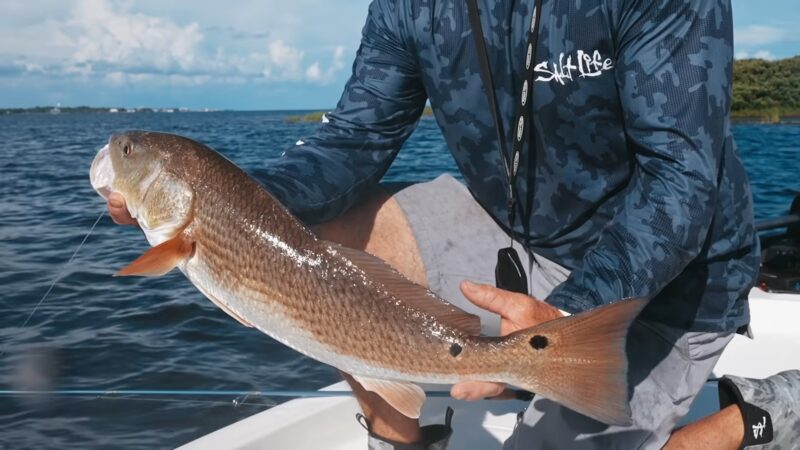 Snook, found in the warm waters around Daytona Beach, are strong fighters, making them a fun and challenging catch. The diverse habitat includes mangroves, seawalls, and docks where Snook typically hide.
Fishing Strategies
Casting around structures with live bait such as shrimp or pinfish can be fruitful, and topwater lures can also provoke bites, especially during early mornings or late evenings. Precision and patience are key to hooking this elusive species.
Regulations and Seasons
Snook has specific harvest seasons, and catch-and-release is enforced outside these periods.
Harvest seasons: September-December and February-August
Size Limit: Not less than 28 inches and not more than 32 inches
Bag Limit: One per harvester per day
4. Tarpon
Tarpon, the "Silver King," is a massive, powerful fish revered by anglers for the challenge it presents. Daytona Beach's warm waters are a perfect habitat for this species, particularly around bridges and channels.
Tips and Techniques
Large, live baits like mullet or crabs are effective in tempting Tarpon. Heavy tackle is essential to manage their strength and frequent leaps. While Tarpon can be caught throughout the day, early mornings and late evenings are often more productive.
Seasonality and Regulations
Tarpon are present year-round but are most plentiful between May and July. They are strictly catch-and-release in Florida, except when pursuing an IGFA world record.
5. Sheepshead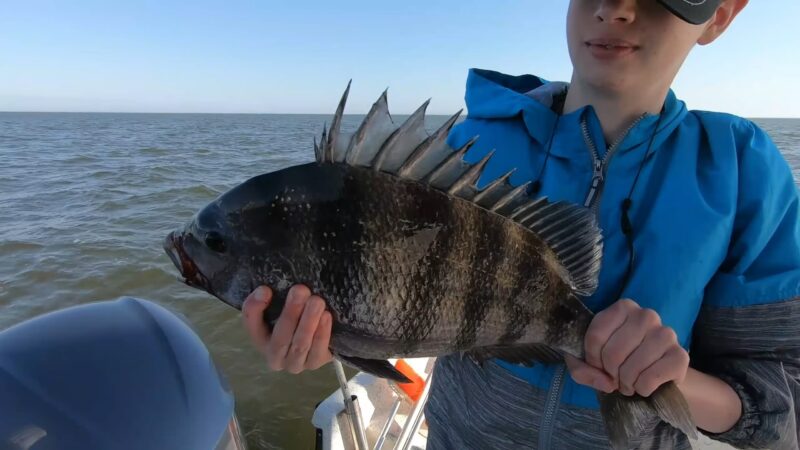 Sheepshead are often found around structures where they feed on crustaceans. They can be tricky to hook due to their ability to steal bait with their specialized teeth, making them an exciting challenge for anglers.
Tactics and Baits
Fishing around piers, bridges, and rocks with fiddler crabs, barnacles, or shrimp often yield success. A sensitive rod is recommended to detect the Sheepshead's subtle bites quickly.
Times and Limits
Winter is the prime time for Sheepshead, with December through February being the peak months. The regulations include:
Size limit: 12 inches minimum
Bag limit: Eight per person per day
6. Black Drum
Black Drum, close relatives of the Red Drum, are bottom feeders often found in the inshore waters. They're known for the drumming sound they make during the spawning season.
Locales and Lures
Black Drum are typically caught around structures using cut bait, clam strips, or shrimp. Fishing around bridge pilings or in channels can often lead to success.
Guidelines and Peak Season
The best time to target Black Drum is from December through February. The restrictions are:
Size limit: 14 to 24 inches, with one over 24 inches allowed
Bag limit: Five per person per day
7. King Mackerel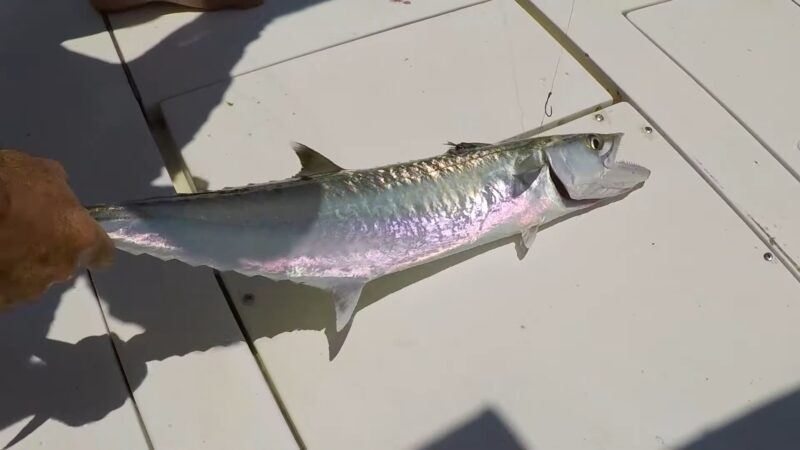 King Mackerel, with their razor-sharp teeth and high-speed runs, are a thrilling catch for offshore anglers. They are often found around wrecks and reefs, hunting smaller fish.
Techniques and Baits
Trolling with live baits like mullet or artificial lures is a standard method to hook King Mackerel. A wire leader is crucial to prevent cut-offs from their sharp teeth.
Optimal Times and Regulations
April through October is the prime time for King Mackerel. Regulations state:
Size limit: 24 inches fork length
Bag limit: Two per person per day
8. Cobia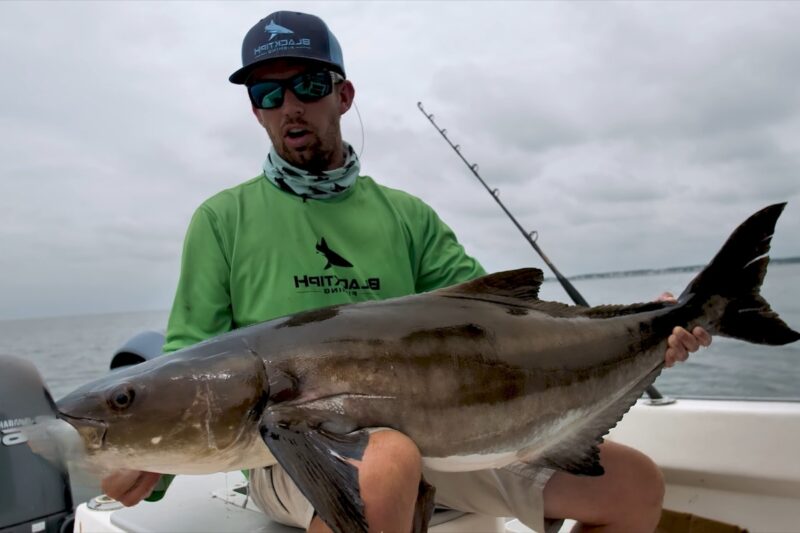 Cobia are usually found nearshore and offshore around wrecks, buoys, and other structures. They are curious fish, often approaching boats, making for an enticing target for anglers.
Effective Methods
Sight fishing is often successful for Cobia, using live crabs, eels, or large artificial lures. They can be stubborn fighters, so sturdy tackle is recommended.
Regulations and Prime Season
March through May is the optimal time to target Cobia. The stipulations include:
Size limit: 33 inches fork length
Bag limit: One per person or six per vessel, whichever is less
9. Mangrove Snapper
Mangrove Snapper inhabit inshore and offshore structures, requiring keen skills to outsmart. They are wary biters, making them a rewarding catch for the seasoned angler.
Recommendations and Bait
A light line and small hooks are often more successful in fooling the Mangrove Snapper. Live shrimp, pilchards, or cut bait are effective offerings.
Best Seasons and Limits
June through August is usually the best time to target Mangrove Snapper. Keep in mind the restrictions:
Size limit: 10 inches minimum
Bag limit: Five per person per day
10. Spanish Mackerel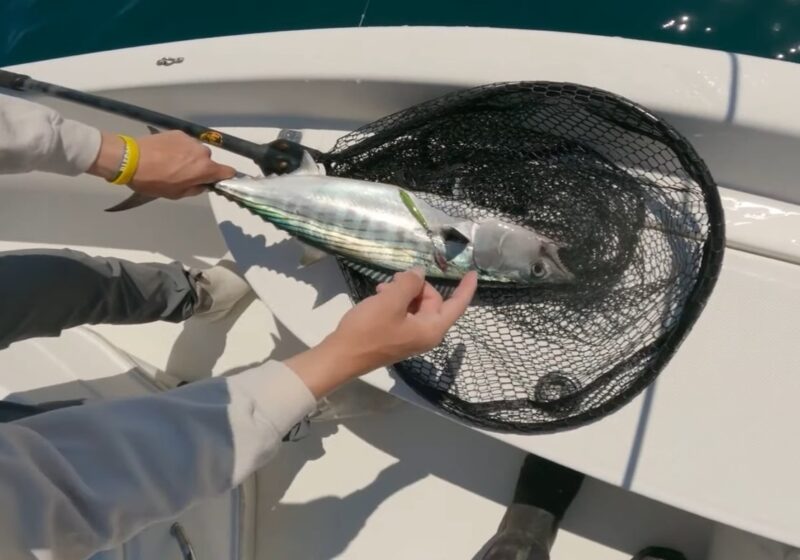 Spanish Mackerel, known for their speed and aggressiveness, are found in the nearshore waters. They are voracious feeders, often hitting baits with incredible force.
Techniques and Seasons
Trolling or casting with small shiny lures or live baits can quickly attract Spanish Mackerel. They are usually abundant from March through November.
Regulations and Handling
The regulations are:
Size limit: 12 inches fork length
Bag limit: 15 per person per day. Handling them with care is crucial due to their sharp teeth.
FAQs
Can beginners also enjoy fishing in Daytona Beach, or is it only for experienced anglers?
Absolutely, beginners are more than welcome to enjoy fishing in Daytona Beach! The area offers a multitude of fishing opportunities suitable for all levels of experience, and there are numerous fishing guides and charter services available to assist novices in learning the basics of fishing and helping them have a fruitful experience.
Do I need to bring my own fishing gear to fish in Daytona Beach?
While bringing your own gear is an option, it is not a necessity. There are numerous bait and tackle shops in the area where you can rent or purchase the necessary equipment and supplies.
Additionally, many fishing charter services provide all the needed gear as part of their packages.
Are there any family-friendly fishing spots in Daytona Beach?
Yes, Daytona Beach has several family-friendly fishing locations. Many of the area's piers are suitable for families and offer a relaxed environment for those with children.
Some charter services also specialize in family-friendly fishing excursions, ensuring a safe and enjoyable experience for anglers of all ages.
Can you recommend any fishing charter services in Daytona Beach?
Daytona Beach has a plethora of charter services. While we don't endorse any particular service, we recommend researching online reviews or asking for recommendations on local fishing forums to find a reputable charter service that suits your needs and preferences.
What types of fishing licenses are required to fish in Daytona Beach?
To fish in Daytona Beach, you will typically need a Florida fishing license. There are different types of licenses available depending on whether you plan to fish in freshwater or saltwater, and whether you are a Florida resident or a non-resident.
Licenses can usually be purchased online, at tackle shops, or at the Florida Fish and Wildlife Conservation Commission offices.
Besides fishing, what other related activities can be enjoyed in Daytona Beach?
Along with fishing, visitors to Daytona Beach can enjoy a variety of water-related activities such as boating, jet-skiing, kayaking, and paddleboarding.
Nature enthusiasts might appreciate bird watching, dolphin watching, or visiting the Marine Science Center to learn more about the local aquatic life. The proximity to the ocean also offers opportunities for beachcombing, swimming, and surfing.
Final Words
Whether you seek the thrill of hooking a mighty Tarpon or the subtlety of outsmarting a Mangrove Snapper, Daytona Beach is the anglers' paradise with its abundant and diverse fish species.
After a successful day of angling, especially if you've managed to hook a mighty Tarpon or a Mangrove Snapper, you might want to celebrate your catch by dining at one of the top Daytona Beach seafood restaurants that offer fresh and delicious seafood dishes.
Prepare your gear, respect the regulations, and relish the remarkable angling adventures that await in the sparkling waters of Daytona Beach.