Whether you're a resident of the Sunshine State or a tourist seeking sun-soaked days and vibrant nightlife, Daytona Beach is a destination that promises more than just beautiful beaches and exciting car races.
This coastal haven is also a food lover's paradise, particularly for those who relish fresh seafood. In this blog post, we'll talk about the culinary seascape of Daytona Beach, exploring ten seafood restaurants that deserve your attention in 2023. Read on to discover an array of options, from upscale eateries to rustic joints, all united by their commitment to oceanic fare.
Our Criteria for Selection
Before we dive into our list, it's essential to discuss what constitutes a great seafood restaurant in the first place. Is it the freshness of the catch, the ambiance, the variety, or perhaps a unique culinary twist? Well, it's a cocktail of these factors, shaken not stirred.
Freshness: A seafood restaurant needs to offer the freshest produce possible. It's easy to tell when seafood is fresh; it has a clean, briny aroma, and the flavors are crisp and distinct.
Variety: A great seafood restaurant should offer a broad range of options, from shellfish to finfish, giving you a comprehensive ocean-to-table experience.
Innovation and Tradition: A balance between traditional recipes and creative culinary experiments can make for a truly memorable dining experience.
How We Picked the Restaurants
We've scoured reviews, consulted locals, and of course, tasted our way through an ocean of dishes to come up with this list. Each restaurant here stands out for its own unique reason—be it affordability, family-friendliness, or sheer opulence. So rest assured, there's something for everyone.
1. High Tide at Snack Jack's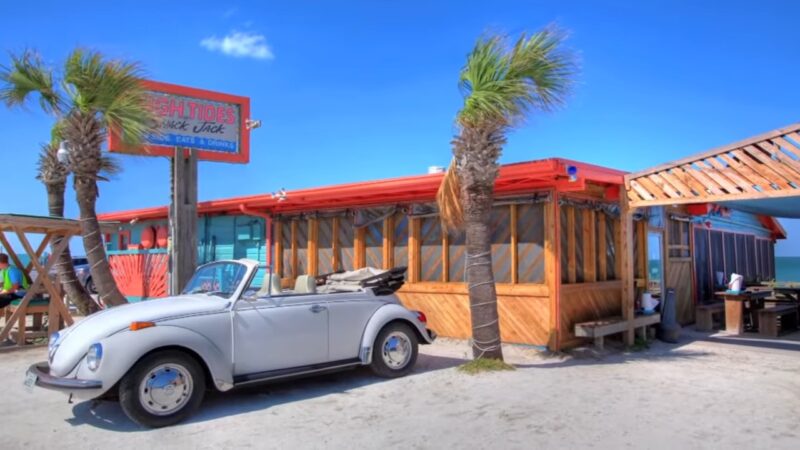 The Backstory
Overlooking the beautiful Atlantic, Snack Jack's has been a local favorite since the 1940s. Renowned for its commitment to sustainability and freshness, this laid-back joint exemplifies the boat-to-table ethos, sourcing its seafood straight from local fishermen.
What to Expect
At Snack Jack's, expect nothing less than the freshest catch served in an atmosphere that's as relaxed as a hammock swaying in the ocean breeze. While the restaurant might appear unassuming, its flavors are anything but.
Best Dishes: Try their Oyster Rockefeller or the Blackened Mahi-Mahi Tacos.
Amenities: Enjoy pet-friendly outdoor seating with a stunning ocean view.
Pro Tips
If you're visiting during the weekend, try to arrive early; the place fills up quickly.
Snack Jack's is not just about seafood; they offer a variety of other dishes like vegetarian tacos and burgers, catering to all palates.
2. Azure Oceanfront American Kitchen
Where Fine Dining Meets the Sea
When it comes to combining seafood with high-end dining, few can compete with Azure Oceanfront American Kitchen. Located within The Shores Resort & Spa, this restaurant offers both indulgence and an extensive seafood menu.
A Culinary Journey
Expect a culinary journey of refined flavors and masterful presentations. Each dish at Azure is a work of art, utilizing the freshest ingredients in imaginative ways.
Best Dishes: Consider trying the Seared Scallops served with truffled cauliflower puree or the Azure Seafood Tower featuring an array of ocean delicacies.
Amenities: They offer both indoor and outdoor seating, each with its unique aesthetic appeal.
How to Make the Most of Your Visit
Azure requires reservations, especially on weekends and holidays. Plan ahead to secure your table.
Take advantage of their wine list, carefully curated to complement the seafood offerings.
3. Caribbean Jack's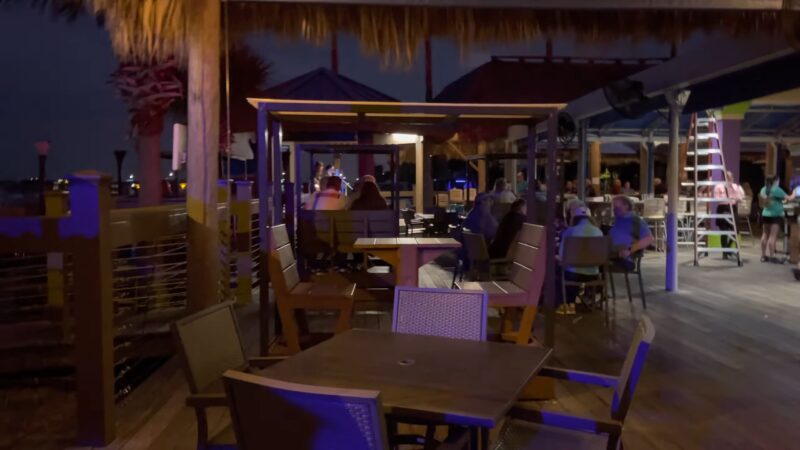 Why It's Unique
Imagine a place where the vibrant flavors of the Caribbean meet the briny treasures of the Atlantic Ocean. That's Caribbean Jack's for you, offering an eclectic seafood menu alongside a lively ambiance.
Must-Try Dishes and Drinks
From crab legs to coconut shrimp, the choices here are endless, but every dish shares the restaurant's signature tropical flair.
Best Dishes: The Crabby Shrimp Dip and the Rum Glazed Scallops are a must-try.
Amenities: The restaurant has an on-site marina and live music events, adding to its tropical appeal.
Insider Tips
Caribbean Jack's is known for its cocktails as much as for its seafood. Don't leave without trying their signature Jack's Rum Runner.
The restaurant has ample seating, but the outdoor area by the marina fills up quickly, so arrive early if you prefer that view.
4. Aunt Catfish's On the River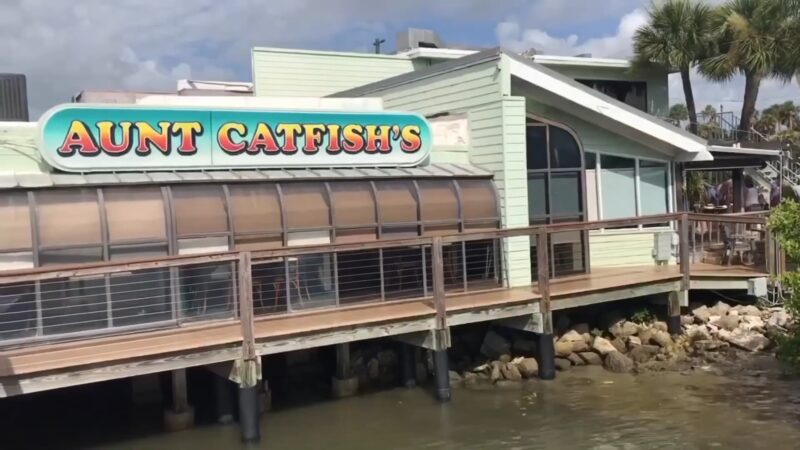 A Homely Haven
Aunt Catfish's offers a unique blend of Southern comfort food and oceanic fare. Located on the Halifax River, it provides a beautiful waterfront dining experience that feels like home—assuming your home cooks some of the best seafood in Daytona Beach.
The Menu Highlights
Best Dishes: The Low Country Boil is a standout, and the Fried Green Tomatoes are a lovely Southern touch.
Amenities: A boardwalk, a large outdoor dining area, and frequent live music performances.
Visiting Tips
Sundays feature an all-you-can-eat brunch buffet but expect a crowd.
The restaurant has a rustic feel, making it ideal for casual, family-friendly dining.
5. Ocean Deck Restaurant & Beach Club
View this post on Instagram
For the Adventurous Palate
Ocean Deck Restaurant & Beach Club is not your average seafood restaurant. While it serves traditional dishes, the restaurant is famed for its innovative takes on classic recipes.
What's On the Menu
Best Dishes: Try the Rasta Chicken for a Caribbean twist or the Ocean Deck Mahi smothered in a creamy garlic sauce.
Amenities: Beachside location with an open deck, perfect for enjoying the sunset.
Insider Info
The restaurant is also a beach club with a vibrant nightlife scene.
The drinks menu is equally adventurous, featuring options like the Ocean Deck "O" Punch.
6. The Cellar Restaurant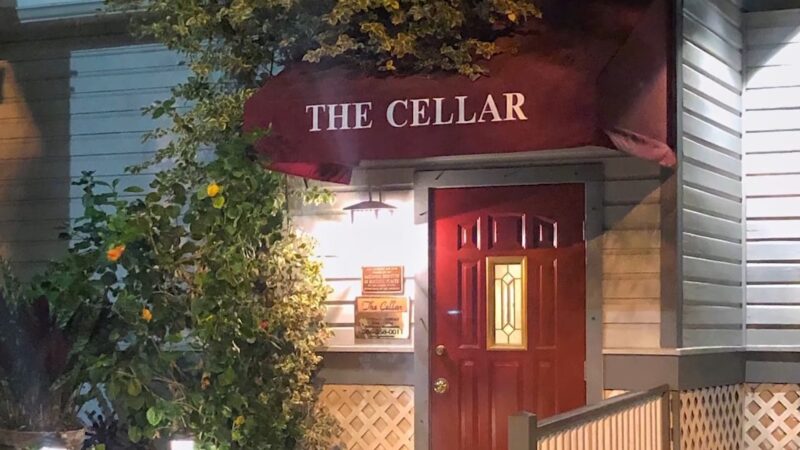 Fine Dining in a Historic Setting
Located in President Warren G. Harding's winter home, The Cellar Restaurant offers Italian cuisine with a variety of fresh seafood options. It's a perfect spot for couples seeking a romantic dining experience.
What to Expect
Best Dishes: The Risotto Pescatore is a creamy delight loaded with fresh seafood.
Amenities: An extensive wine list and elegant interior decor.
Insider Tips
A reservation is a must, as the restaurant's intimate setting has limited seating.
Dress code is smart casual, adding to the overall upscale experience.
7. Joe's Crab Shack
View this post on Instagram
Good Food, Great Fun
Joe's Crab Shack offers a family-friendly atmosphere where bibs are encouraged, and hands-on eating is part of the fun. It's the perfect place for a casual, entertaining meal with the family.
The Experience
Best Dishes: The Crab Buckets are a popular choice, and kids will love the Shark Bite drink.
Amenities: Outdoor playground and a kid-friendly menu.
Quick Tips
Joe's is a chain, so it may lack the individual charm of other entries on this list, but it makes up for it with a consistently fun experience.
The restaurant gets busy during weekends; plan accordingly.
8. Doc Bales' Grill
Opulence and Seafood
Doc Bales' Grill, located in the Hilton Daytona Beach Oceanfront Resort, offers an unparalleled luxury dining experience with an emphasis on seafood.
What Sets It Apart
Best Dishes: The Lobster Thermidor is a classic done right.
Amenities: Beachfront location with a stunning view.
To Note
The restaurant offers a Sunday brunch that's worth every penny.
Pair your meal with a selection from their extensive wine list for the full experience.
FAQs
Why should I be cautious about ordering fish on Sundays?
Many seafood restaurants get deliveries on Tuesdays and Fridays. Ordering on a Sunday or Monday could mean the fish has been sitting around for days. However, high-quality seafood restaurants often have fresh fish every day.
What does a lack of variety on the menu indicate?
If a seafood restaurant only serves shrimp and salmon, they may not be tapping into the full range of ocean offerings. A quality seafood restaurant should offer a variety of shellfish, whitefish, and unique specialties.
Why is seasonality important in a seafood menu?
Fish is a highly seasonal food. Menus with seasonally appropriate items are more likely to offer fresh catch. For example, wild king salmon is available fresh only during short periods in the summer.
How can I identify if a restaurant serves unsustainable species?
Look for guidance from programs like the Monterey Bay Aquarium's Seafood Watch, which assesses fish species for sustainability. Avoid species like bluefin tuna, which are overfished.
Should the restaurant be able to tell me where the fish was caught?
Yes, a quality seafood restaurant should be able to provide information on the origin of their fish. This indicates a relationship with a trusted wholesaler and a commitment to quality.
Is it a red flag if all the fish is fried?
Yes, if a restaurant only serves fried seafood, they may be trying to mask the quality of their fish. Fried dishes are also calorie-dense and offer limited nutritional benefits.
What does it mean if the fish is overly adorned with sauces?
Excessive sauces and garnishes may indicate that the chef is trying to hide the quality of the fish. Seafood has its own range of delightful flavors that should be allowed to shine.
Should I be concerned if menu items are listed as "market price"?
Listing items as "market price" can be a tactic to give the perception of an expensive dish. High-quality seafood restaurants should know their seafood costs and adjust their menu as needed.
Is cocktail sauce on the menu a bad sign?
Yes, cocktail sauce has strong flavors that can disguise low-quality or old seafood. It's a red flag, especially if served with fried shrimp.
How should shellfish be served?
Shellfish should be served on ice to ensure they are fresh and safe to eat. This is especially important for raw bars, where poorly handled shellfish can lead to foodborne illnesses.
Final Words
From fine dining to relaxed beachside eateries, Daytona Beach has something for every seafood lover. Each restaurant on this list offers a unique dining experience, making them must-visit spots in 2023. So, why wait? Plan your culinary journey now and dive into the diverse and delicious seafood scene of Daytona Beach.